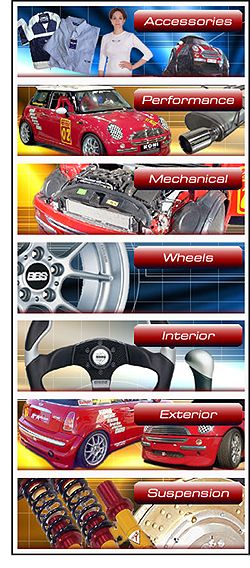 Everything you ever wanted for your Mini Cooper can be found right here at Derand. All the performance parts and accessories are now available for the Mini Cooper and Mini Cooper S. Imagine having a basic Mini Cooper with 200 horsepower (compared to the stock 115 hp)... it's now possible with the new Turbocharger System. Here's a partial list of what's available (see the store for details):

Springs
Adjustable Rear Anti-Sway Bar
Wheel Spacers
Cat-Back Exhaust System
Exhaust Header
Air Intake System
Cylinder Head
Braided Brake Hoses
Coil-Over Kit
Performance Camshaft
Strut Brace
6 Speed Gearbox
Roll Cages and Bars
Bike and Ski Racks
Interior Upgrades (Seats, Dash Kits, Chrome Trims, etc)
Roof Decals
Much, much more...