We understand this Mustang page is outdated but we still have all the performance and cosmetic parts you want for your Mustang. For a limited time, we are now offering 10% discount if you belong to the Ottawa Mustand Club or Gatineau Mustang Club. Must show club membership.

If you want your Mustang to stand out from the rest, just choose your preference. We have accessories that will transform your Mustang into a race car or mimic the classic body style with side pipes and modified side scoops, or simply accentuate the Mustang body charasteristics. If you prefer to muscle the horsepower, we also carry a wide variety of performance products readily available for every year Mustang.

Here's a partial list of what's available (see the store for details):


Ford Performance Pedals (Automatic and Manual)
Side Scoop
Ford Shifter Knob & Trim Ring
Grille Eliminator
Power Fuel Door
Classic Side Exhaust
Chin Spoiler

Light Bar - Tonneau
Aeroshield
Sequential Taillights
Razzi Ground Effects Packages
Rear Exhaust Styling
Quad Driving Lights
Much, much more...

---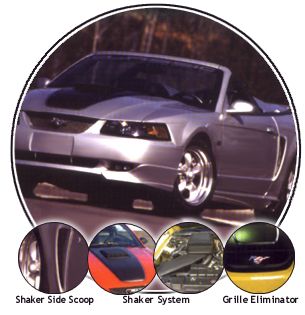 Shaker Modification

Shaker Package 1:
Shaker System, Shaker Side Scoops, Windshield Banner and Spoiler Graphic

Shaker Package 2:
Shaker System, Shaker Side Scoops, Windshield Banner, Spoiler Graphic, Ford Performance Pedals, Shifter Knob, Trim Ring, Lock Soldiers and Aluminum Fuel Door

Optional Equipment Includes:
Side Exhaust, Power Fuel Door, Sequential Taillights, Quad Driving Lights, Performance Pedals, Ford Shifter Knob and Light bar

Shaker System catches looks, air and boosts overall power... the applique' draws the eyes into the Shake of the Scoop. The Shaker Scoops add performance stance to the profile and three quarter view for an overall power look. Honeycomb inserts complete the Classic Mustang Style... simply snap into factory location for an all-new look.




Turn your Mustang into a MACH 1