Derand is now your ultimate source for PT Cruiser Parts, Accessories, Modifications and Panel Conversions. If you're looking to personalize the appearance of your PT Cruiser, you've come to the right place. The most dramatic looks can be obtained in about one hour, using the Bumperette Front Fascia and Retro Full Grille, or one of the Polished Stainless Vertical Bar Grilles.

All parts interchange with all factory components and there is no additional hardware necessary. In addition, all fronts are made from BASF brand urethane which is of the highest standard available and is used by most leading automotive manufacturers today. All parts have been designed to utilize all factory mounting locations for simplicity and ease of installation. These installations do not involve any disconnecting of airbag sensors.

For more information, please visit www.PTeazer.com.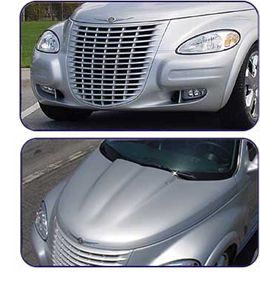 Bumperette Front Fascia / Retro Full Grille
Bumberette Front Fascia / "Air Flow 22" Vertical Bar Grille
Bumperette Front Fascia / "Sweet 16" Vertical Bar Grille
Smoothie Front Fascia / Retro full Grille
Smoothie Front Fascia / "Air Flow 22" Vertical Bar Grille
Smoothie Front Fascia / "Sweet 16" Vertical Bar Grille
Cowl Induction Power Hood
Euro Sports Package (Fender Flares & Side Skirts)
Retro Rear Rollpan
Dual Exhaust Cat Back 3 Piece System
Retro Drop Tail Light
Illusion Rear Bumper
Illusion Roof Scoop
Panel Conversions