The Concept - "A Pick-Up, Literally"
An extensive study of the utility and leisure markets shows that the desired activities of customers and the solutions provided by the manufacturers are not in sync. The high-growth market of pick-up trucks (especially in North America) leaves many transportation needs open and unfulfilled. Unless a bulky trailer is used, any heavy object (from a personal water craft, a motorcycle or professional machinery and equipment) cannot be moved, as they are too heavy to be lifted by hand onto the bed. The traditional pick-up truck does not live up to its name.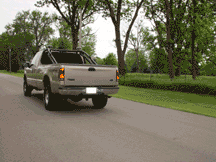 (Attention: X-Tra-Lift animation is 783 kbs in size and will take a few minutes to load with a slower connection.)


The X-Tra-Lift
In order to fill this need, Rinspeed, Inc. in cooperation with Stellar Industries, Inc. conceived, invented, engineered and patented the "X-Tra-Lift" - an aesthetically pleasing, yet very practical and universal lifting device for OEM or aftermarket applications for any pick-up truck - new or used. This hydraulically or electrically powered lift permits the easy loading and unloading of any object (up to about 1,320 lbs / 600 kg) onto or from the bed. The versatile functionality of this innovative system creates a new philosophy of transportation: the M.U.V. (Multi Utility Vehicle) concept.

The X-Tra-Lift is now available to fit Dodge, Ford and General Motors pick-up trucks with 8-foot long boxes. A shorter version to fit the Ford and General Motors 6.5-foot long box will be available in early 2003.


Contact Derand for further information on the X-Tra-Lift.